Claudia Pollauf answers the most frequently asked questions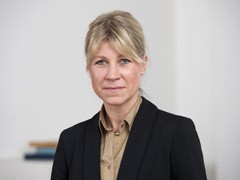 We understand technology development as a continuous process in close consultations with our customers. Each system has the state-of-the-art technology and software components which are designed on a needs-oriented basis and which are produced in the plant in Germany.
1. What is Fintec's definition of system technology?
We apply systematic thinking throughout the whole process, we interlink all interfaces in the finish technology section and thus, we constantly reinvent each Fintec system. Our concept of system technology for textiles in the business area of textile service is based on our own machine development and the experience aqcuired over decades. Three systems form the pillars of our company and our expertise:
Vario system technology for garment treatment
System technology for dry work treatment
System technology for presses
2. How do we optimize the finish technology for garments?
The centrepiece of a Vario system is the high-performance tunnel finisher VarioJet FTS. It optimizes garment drying and finishing with an hourly output of 1,900 garments, depending on the product and type of fabric, fabric thickness, mixing ratio as well residual moisture. A perfect air flow creates a unique air conditioning for an effective, gentle treatment of garments. Programs that are adjusted to the properties of the textiles guarantee a precise processing. Energy-efficient air flow is a standard feature as well as circulating fans operated by frequency converters. As a result, there was a performance increase in the double-digit percent range. VarioJet FTS is available in a gas or steam heated version in various sizes depending on the hourly performance from 200 up to 1,900 pieces.
3. Why is the Vario concept such an economical system?
Fintec systems not only provide high quality, but also smooth internal logistics. The Vario systems have short production paths and guarantee a reliable smooth flow. Finisher, feeding stations, transport system and folders – they can all be integrated in existing production processes. The transport system VarioTrans can be expanded for fully automatic data acquisition and complete production data processing. All drives are controlled via frequency converters in order to minimize the proportion of wear parts and their susceptibility to failure. VarioTrans takes up the articles directly at the loading station VarioLoad, feeds them to the finisher and finally to the folder VarioFold, including sorting technology in the fully automatic system, if required.
4. How is finish technology related to health issues?
It is important for our customers to keep their specialized staff and offer an environment which contributes to employee satisfaction and which promotes a good working environment and most of all health and well-being. This is why we produce machines that take account of ergonomic aspects and, most of all are easy to operate.
5. Why focusing on dry work?
This specialization has proven successful. "Everything is fine and dry" is meant literally. We cover the whole range of finish technology for washed and dried garments. Our folding and sorting modules ensure high quality up to the final process. In Frankfurt we are presenting the fully automatic VarioFold F 85-A. This high-performance machine folds coats, jackets, surgical gowns, dungarees and knee breeches or nightgowns in best quality of different types of goods and combinations and prepares them for transport. Due to a consequent separation of the individual folding processes, hourly performances of up to 950 pieces are reached depending of the type of good at a constant folding quality. By means of state-of-the-art SPS technology and cycle times in the nanosecond range, VarioFold works unbeatably precise. The decisive Fintec extra is the optional manual or automatic feeding.
The dry work folding machine VarioFold TR 45 enables mechanical folding of flat laundry in an efficiently automated process. There is no time-consuming folding, sorting and stacking of different types of goods and formats. The function of the latest version which we are going to present at Texcare, folds extremely thin and also extremely thick items: from nappy to bath sheet.
The standard version of VarioFold TR 45 has an hourly performance of up to 1,200 pieces. The individual formats are set via a touch screen control panel or PLC control respectively. Sorting unit VarioSort is the ultimate addition which can be placed next to the machine.
Would you like to know more about our system technology? Please call or send an email. We will be pleased to answer all your questions.