KMB 10 combination press – ergonomic through and through
The KMB 10 combination press ensures first-class pressing quality down to the last detail and enables an hourly throughput rate of approx. 120 items (depending on the type of item, residual moisture and steam operating pressure).
As with the PB 15 mushroom press, the ergonomically well-engineered design of the KMB 10 enables fast, automated work cycles for efficient processing of collars, lapels and sleeves, as well as smaller garments and flat laundry items. Effortless, fast and harmonious work steps increase the performance and motivation of your employees.
The intelligent, ergonomic design of the machine enables quick, fatigue-free operation of a variety of textile items. The direct access to the operating elements on the supporting table, among other features, ensures a high level of safety and operating comfort.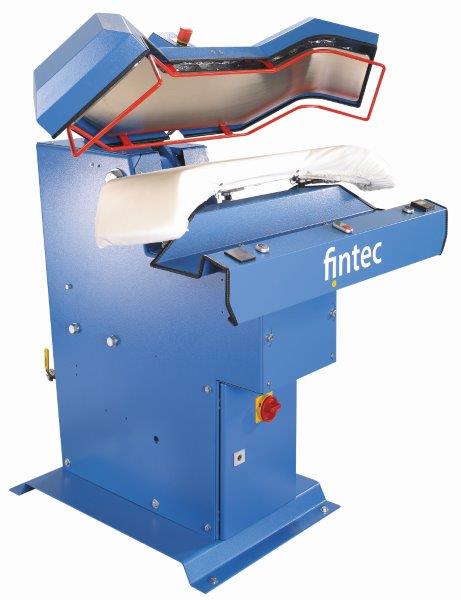 The high level of automation saves time and reduces energy costs.
The robust, fault-resistant design of the machine prevents the operators from quickly becoming fatigued and ensures a long service life.
Integrated safety frame (in the heating plate cowling)
The steam, condensate and compressed air lines are contained within the full cowling
Digital time adjustment with residual time display; supplied as special equipment with actual time display
Spring covering on the lower table (with under-table heating) made from V2A compression springs
Electro-pneumatic control of the mechanical functions