PB 15 mushroom press – for neat work with attention to detail
The PB 15 mushroom press is based on the robust design of Fintec press technology for the efficient processing of specialist tasks in modern pressing: providing a professional finish for collars, lapels and sleeves as well as smaller garments and flat laundry items.
Thanks to the ergonomic Fintec principle, your employees achieve above average throughput with the PB 15. Motivation and commitment remain steady.
The smooth, harmonious sequences of movement provided by the easy-to-reach controls and the ergonomic overall design mean that employees will not become quickly fatigued. Motivation and commitment remain steady!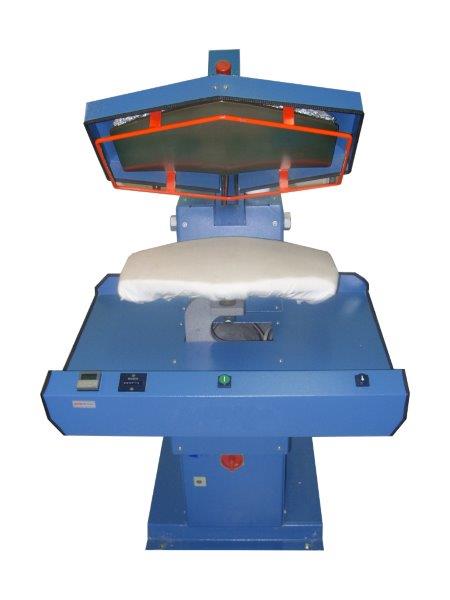 Working in combination with the under-table heating, the spring covering on the lower table, made from V2A compression springs, ensures outstanding quality.
Digitally configurable pressing times enable optimum processing conditions for a variety of textile items and materials.
Integrated safety frame (in the heating plate cowling)
The steam, condensate and compressed air lines are contained within the full cowling
Digital time adjustment with residual time display; supplied as special equipment with actual time display
Spring covering on the lower table (with under-table heating) made from V2A compression springs
Electro-pneumatic control of the mechanical functions